*Our Engineering team is working alongside Apple Support to address a known issue with the Smartwaiver Kiosk App running on the latest iOS 17.0. Until a resolution has been implemented, devices using the Smartwaiver Kiosk App running on iOS 17.0 may experience performance issues at this time.
If your device is set to update to the latest iOS automatically we recommend disabling auto-updates on the device at this time.
Workaround in the meantime: Please bypass the Smartwaiver Kiosk App to launch your waiver template in a separate web browser (running it in Kiosk Mode). Support article here: How do I use the Kiosk-Mode-URL at my location?
Feel free to email Support at support@smartwaiver.com with any questions.
If you're using the latest version of our Kiosk app, you can log in to your account from any computer with an internet connection and manage your Smartwaiver Kiosks.

After downloading and installing the free app for iPad or Android, and registering your Kiosks

Log in to your Smartwaiver account from a computer:

1. Click on Manage Your Kiosks.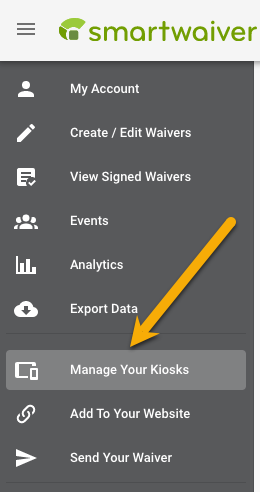 2. Choose which Kiosk you'd like to manage.





3. From here, you can:
Change your Kiosk Name
Enable Auto Photo Capture
Choose which waiver OR Waiver Index Page to display
Select your Smartwaiver Inactivity Timeout
Enable Offline Waiver Collection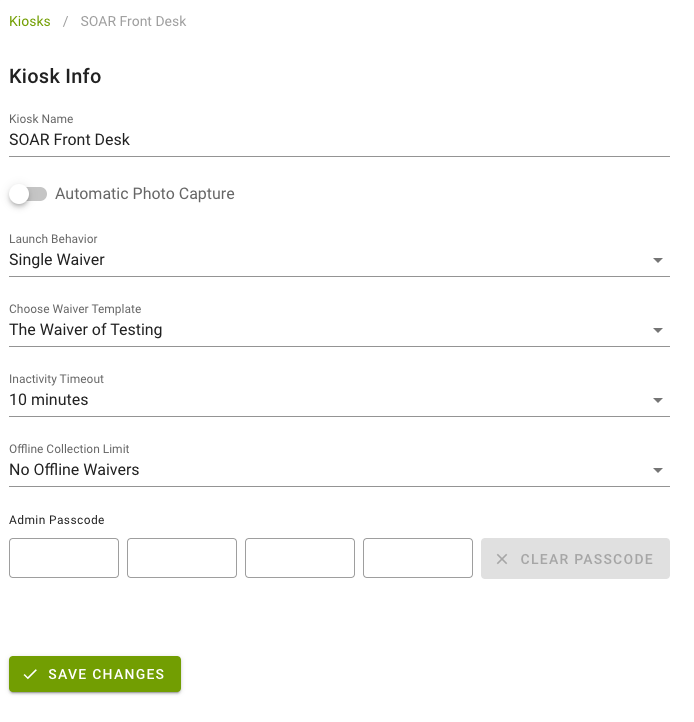 Now, from your iPad or Android device, click on Start Over to see the changes you've just made.