Administrators of the account can add Staff Users and give these users permission to access either the:
Waiver Console (default permissions) - allows user to view signed waivers and participant information
Create/Edit Waiver Templates - allows user to create and edit waiver templates
Analytics - allows user to view waiver analytics and Smart Trends
Data Export - allows user to export participant data as a CSV file
Create/Edit Events - allows user to create and edit Smartwaiver Events
Steps to add a Staff User:
1. Click on the My Account icon and then Staff Users.




2. Click on the Add Staff User button



3. Enter the email address of the staff user you would like to invite and click Invite.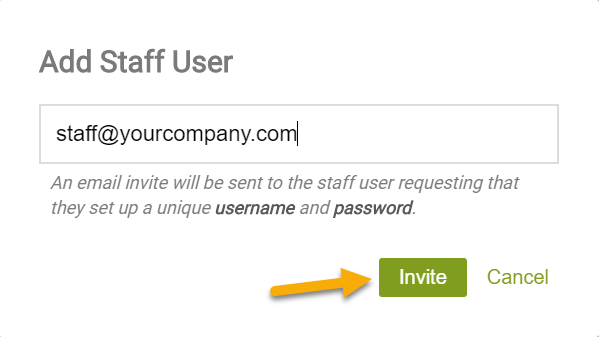 An email will be sent to the staff user requesting that they set up a unique username and password. By default, all Staff Users will have permission to view the Waiver Console only. Once the Staff User accepts the invitation, the admin can go back to the Staff Users page and select the appropriate permissions for that user.





To Delete a Staff User:

Simply click the Delete button next to the user's name.