With the Smartwaiver + FareHarbor integration, your customers can fill out a waiver or release form online and it will automatically be added to your FareHarbor booking.
If you are not seeing signed waivers show up in your FareHarbor manifest there can be a few things causing this:

1. The link contained within the Fareharbor confirmation email must be accessed in order for the data to be sent back to FareHarbor.
Any waiver completed outside of the FareHarbor confirmation email or not using the specific link with the reservation ID will be available within your Smartwaiver Console only. These waivers will not tie back to the FareHarbor manifest.
If you need to manually connect a signed waiver to a FareHarbor registration you can reach out to FareHarbor support for assistance with this.

2. The waiver link is new and has not been added to the FareHarbor account yet.
If this a new waiver:
Anytime you create/add a new waiver to your Smartwaiver account, you will need to reach out to FareHarbor's support team to have them add that new waiver to any bookings you'd like it associated with in FareHarbor.
3. The Waiver Autotag toggle has not been turned in within the waiver's Settings button.
Within each individual waiver (that you use in FareHarbor), you must ensure the 'Waiver Autotag' toggle is turned on within the waiver's Settings button.
To setup this backend configuration:
Log in to your Smartwaiver account here.
Click 'Create/Edit Waivers' (from the left sidebar)/here, to jump to your page of waiver choices.
Click the Edit icon (pencil icon) on any waiver(s) you have linked with FareHarbor.
Once inside the Waiver Editor ...
Click the Settings button > scroll down and turn on the 'Waiver Autotag' toggle
(shown in the screenshot below).
Close the Settings window > click the Publish Waiver button (in the upper right corner).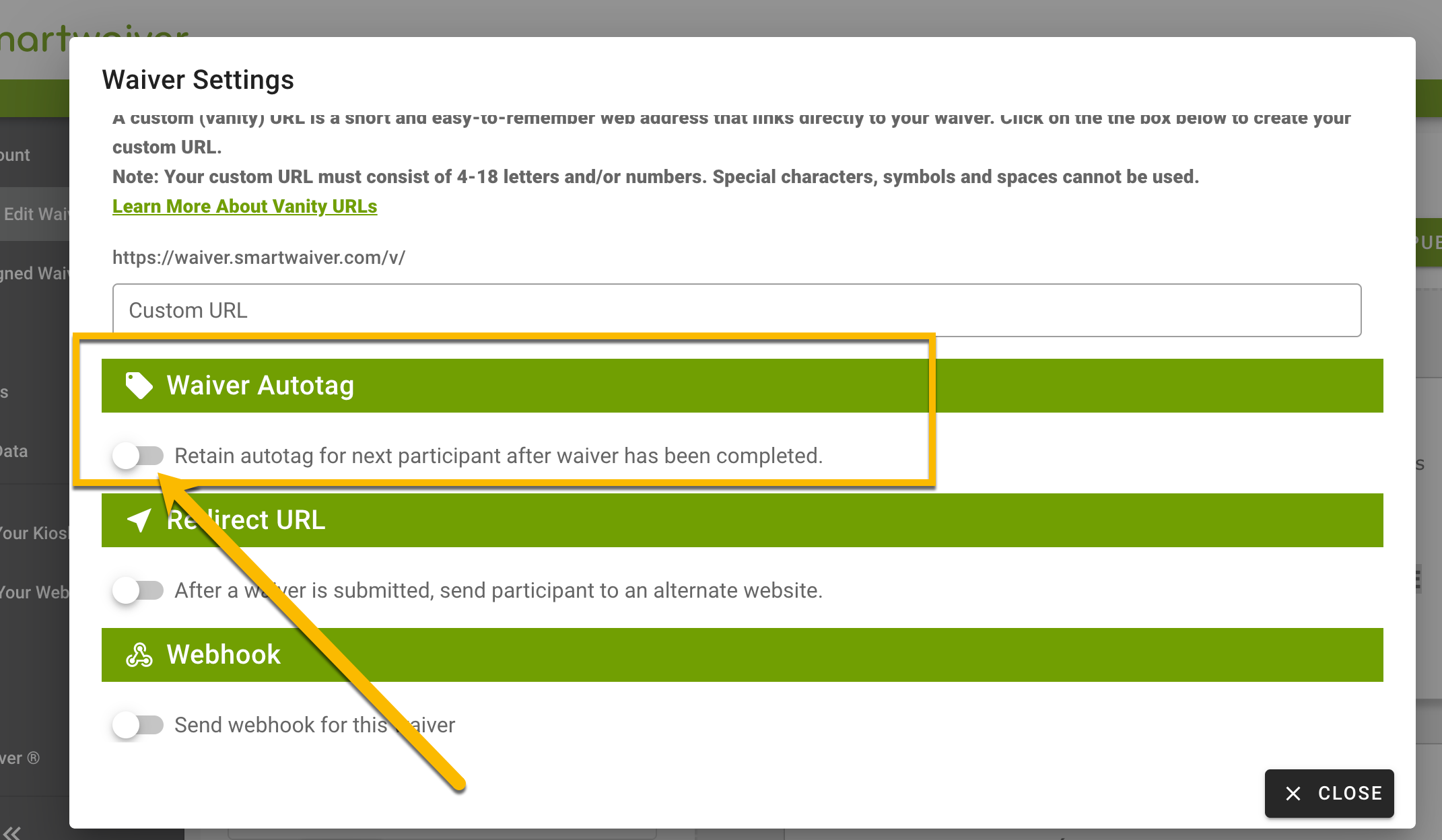 Here's more information on our integration with FareHarbor:
-FareHarbor and Smartwaiver (Smartwaiver's support article)
-Smartwaiver Integration (FareHarbor's support article)